About 80 percent of all players have played tonight. The Angels and Mariners just got started, the As and Royals have a few more innings. And I'm in first place in a league that I've written about a lot, but have never won. This isn't the place to examine that, but I did want to look at the miracle of what has happened in the home stretch.
On August 27, my birthday, my team was languishing. I'm the Bad Kreuznachs.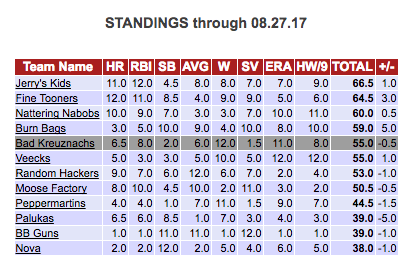 This wasn't quite the low point in the season, but it was the start of feeling that there was not enough time for things to get better.
I started thinking about at least making it into the money, fourth place, and it was clear that that was a stretch.
This was a team with a pretty good freeze list, a team that was in first place until the end of May, a team that didn't have huge injuries. (Well, Dallas Keuchel missed too much time, and Zach Britton's injury killed my saves strategy, but my pitching was surprisingly good, thanks to Brad Peacock and a bunch of middle relievers. When James Paxton got hurt, it didn't even hurt, was how good my staff was.) It was a team for which I had high hopes, and desultory play across the board crushed them. Or at least so it seemed on August 27th.
Today, there are only a few games going on, so we're down to just two days left in the season, and I am in a much different place.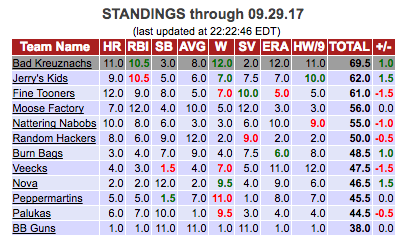 The first week of September I had a monster week, with 27 homers and 58 RBI, and in each week since I've had the best offense in the league. This was the eventual payoff for adding Lucas Duda (FAAB) and Aaron Judge (trade Dallas Keuchel for him), and also the waiver pickup of Teoscar Hernandez after Ben Revere lost his job (if that hadn't been clear I wouldn't have been in on Hernandez and it would have cost me a few points), and the draft buy of the injured Wilson Ramos, who was weak upon his return from injury in July, but has been fantastic in September.
I built up such a lead in wins in late August, thanks mostly to middle relievers, that I was able to cut any starter who faltered down the stretch, and while some of the middle relievers that replaced them haven't been very good, they haven't pitched many innings and haven't hurt my qualitatives.
And Trevor Bauer, who I had as a keep, and Brad Peacock, who I FAABed early on, have been lights out since the All Star break.
And even, after a year of Saves misery, Mike Minor earned a few saves in the last few weeks and earned me a point.
The end result is that what looked like a historically tight race a week or two ago, is now dependent on my team catastrophically failing in the last two days to be a race at all. I'm not discounting that possibility. I'm the new fresh face, the recent riser, and all season long those fresh faces rose and then fell in succession. The good thing for me is that time is running out.
So I'm not counting on anything, but I am amazed to be in this fortunate position, in a league I've long struggled to be the bridesmaid, from time to time, and never the bride, to be running my fingers through the wedding cake. Tonight, my aim feels true. A little more than two days will tell the tale. Even if I end up falling behind the Tooners or Kids in the last days I'll feel fantastically lucky. On my birthday I would have been happy with fifth, and first reserve round pick in March.
Tonight I don't have to discuss what I'll settle for.
Amazing.