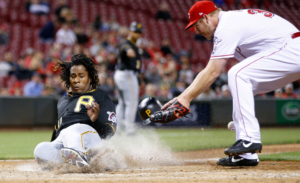 Tyler Kepner tells a pretty good story about Gift Ngoepe (en-GO-epe), the first African to play in the major leagues. He's a slick fielding infielder from South Africa who was promoted last week by the Pirates, who have nurtured him through their system for the past nine years. Nicely, the story suggests.
You should read the story, because it is a good story, because Ngoepe is charming, because his mother was a saint and so she suffered (and died), because he worked with Barry Larkin in Italy, because he's a great fielder, apparently, (and a bad hitter, but off to a hot start with the bat in the majors).
And maybe because it's helpful to hear some of the details of how some person got to that point. Kepner tells a good story. Even if you didn't care about baseball you might like this one.