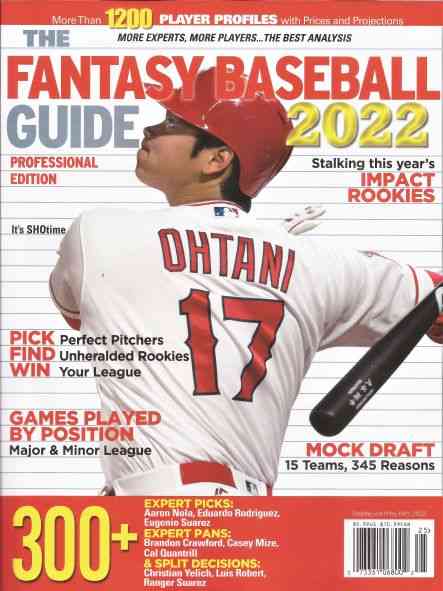 We're live!
This year's model has more than 1200 player profiles written by old friends HC Green, Rob Blackstien, Jeff Zimmerman, Tim McLeod, and JD Bolick, and introducing a newcomer, veteran sportswriter Larry Fine, against whom I've been playing rotisserie baseball for almost 30 years.
Rookie profiles were written by the guys above, with additions from Perry Van Hook, Rob Leibowitz, Jeff Winick, and Scott Swanay. Rob put the section together.
You'll also find more of JD's unheralded rookies, a bit about the Perfect Pitching Staff by yours truly, and Strategies of Champions by Glenn Colton, Fred Zinkie, Ron Shandler, Alex Patton, and Don Drooker. Good stuff there.
Plus, the mag to have major league and minor league games played.
Finally, an All-Star mock draft, featuring in pick order Zach Steinhorn (Creativesports 2.0), Tim McLeod (Prospect361.com), Justin Mason (friendswithfantasybenefits.com), Doug Anderson (FantraxHQ.com), Todd Zola (Mastersball), Derek VanRiper (The Athletic), Ariel Cohen (FanGraphs), Clay Link (Rotowire.com), Howard Bender (Fantasy Alarm), Doug Dennis (BaseballHQ), moi, Ian Kahn (The Athletic), JD Bolick (The Guide), Steve Gardner (USA Today), and Eric Cross (FantraxHQ.com), all commenting on each of their picks. Tim McLeod put it all together, many thanks to him for that.
The Guide also has my fantasy prices and cheat sheet, along with Picks and Pans from Dave Adler, Rob Blackstien, JD Bolick, Ariel Cohen, Buck Davidson, Patrick Davitt, Doug Dennis, Don Drooker, Mike Gianella, Phil Hertz, Tim McLeod, Alex Patton, Mike Podhorzer, Vlad Sedler, Ron Shandler, Zach Steinhorn, Seth Trachtman, and Jeff Winick. So many opinions!
Find the Guide at Barnes and Noble, Wal Mart, and an assortment of drug stores, groceries, and magazine stands across the USA and Canada (though maybe not in Wal Mart in Canada). But there is a convenience store in Atitoken Ontario that is usually one of the first on the continent to put the Guide on sale. You'll have to decide if it's worth the drive.
There is also a pdf version for sale at thefantasyguide.com.
Look for updates about availability and corrections to mistakes (oops) on the Baseball Guide 2022 Corrections and Updates Page.