For the second year in a row Brian Joura of Mets360.com asked me to participate in his GM Simulation.
Here's the deal: 30 baseball writers are given the rosters of the major league teams and are asked to simulate the offseason. For the second year in a row I had the Twins.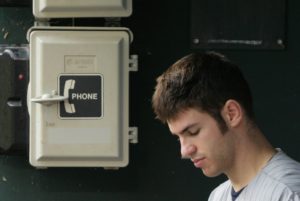 Last year, I dumped Joe Mauer, saved some money and improved the team.
This year, I made more like the real Twins and made Mauer the (downcast) face of the organization. All that money spent on a mild-mannered first baseman who is no Superman made improving the team difficult, but maybe having Byron Buxton and Miguel Sano and Brian Dozier and lots of other young talent will be enough.
I put down some notes about my plans and how I executed them here, at Brian's site.
You'll find the comments of other owners on the project page.
I encourage your comments about my moves and everyone else's. I'm not an expert on the Twins farm system, but it seemed to me there might be enough talent in Gonsalves and Stewart to shore up the rotation if the hitters came through, but that's far from a sure thing. What is for sure is that there wasn't the money to buy a better starter than what we already had.