Tiers help us group players who are close enough alike in value so we can better see where the talent lies during our fantasy baseball drafts. They're also a way to talk about player values without relying on draft dollars amounts, which vary depending on a league's rules.
I'm going through the positions these days, one by one, looking for places where my rankings and prices can be improved. And I share them in hopes they help you, and that if you see something that you think looks wrong you write it up on that player's page at pattonandco.com.
Or in the comments here. Thanks.
TOP TIER (The best players in the game)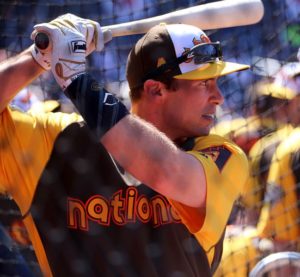 Paul Goldschmidt is here because he's always the most valuable first baseman in fantasy leagues. And always will be forever more, or until he gets older and stops running so much and someone better comes along. That's what happens. A thirty year old can stop running at any time, almost certainly will stop running sometime soon, especially when he's hauling around 225 pounds or so and some fair height, as Goldschmidt does. Which is a reason to try to lowball, as it were, on him. He's dropped out of the Top 4 in draft leagues for that reason, which is not a reason to avoid him. But the quality that gives him extra value, the steals, can't be counted on this year (though it can still be hoped for).
SECOND TIER (Solid players who in any given year might be the best at their position)
It's very hard to downgrade Miguel Cabrera to the second tier, but that's the goon squad calling. He's a marvelous hitter, arguably the best we've ever seen, but he's at an age where the bat has to start a little sooner, or will in short order, and his hitting smarts can only take him so far to offset that.
Anthony Rizzo, Joey Votto, Jose Abreu, and Freddie Freeman are all professional hitters with great on base skills, decent power and (except for Votto) primetime on their side. Votto is older, for sure, but he also has the most stable skill on the planet: He knows when to swing, or not, more often than not. Which makes him an OBP god, and first tier in leagues that use OBP instead of BA. These guys will all be expensive, because they're reliable as well as good, and they're most likely worth it. Um, because they're reliable.
THIRD TIER (Solid, but not quite as accomplished as the tier above)
Most of these guys are boring, fairly reliable but not immune to the occasional bad year. Once upon a time Eric Hosmer looked like he might have the kind of career Freddie Freeman is having, but Hosmer hasn't quite reached that height. He's young enough to still have a big career-year type of season in the next few years.
Hanley Ramirez is coming off a fine season, one that followed a disaster, and another that followed what looked like a down year but turned out to be his cue to descend from the superstar stratosphere. He's got a good high ceiling, but we know how slippery his floor can be.
Wil Myers has one good season under his belt in his so far disappointing career. Though not if you owned him last year. There's ample reason to suspect that he's going to have a hard time repeating that, but if he doesn't there is good reason to think he'll slot into this group easily.
Adrian Gonzalez, Chris Davis, and Carlos Santana are all solid veteran hitters. Gonzalez is getting old, Davis has a whole lot of whiff (and power), and Santana makes more contact than Davis but has a lot less power. I've got Brandon Belt in this group, too, though he could easily be in the next one. Injuries have made him unreliable, even if his power is real.
FOURTH TIER (If they're solid, they're flawed, if they're less flawed they're flaky)
Tommy Joseph is flaky. He was called up, played 101 games last year, and hit for power. As a prospect he was a hit-first catcher whose career as a backstop was derailed by shady defense and too many concussions, which cost him playing and development time. I think he's going to hit for power and be able to make enough contact to be solid, but there is a decent chance he's got a hole somewhere in his swing that ML pitchers are going to figure out how to exploit, and that could be a problem. But for right now, he's the Phillies full-time power-hitting first baseman.
Chris Carter, and Lucas Duda are big guys with lumbering games and some dark clouds in their recent pasts. Solid enough, but not to pay up for. These are guys to settle for if the best first basemen are too expensive. This is assuming that Carter will play regularly, either for the Yankees or someone else this year. As the reigning home run champ he's be a lock, but see, he's flawed.
Josh Bell is also somewhat big and lumbering, but he's young and coming instead of desperately trying to tread water. He showed last summer that he belongs in the major leagues as a hitter, but he is plagued by lack of defensive value, to say the least, and lack of a home run stroke, to hit the nail on the head. He should play this year, he's a top prospect, and he should produce a fine batting average, but right now he looks a little like James Loney without the good glove. Hard to see how that plays in the long run.
TIER FIVE (Limited expectations from platoonists, the contact challenged, the unknown)
In a 12-team mixed league, these guys don't get rostered. In a 15-team mixed you hope to get your choice for a buck. But in an AL or NL only league, these guys can be gold, because they don't cost much and they might earn a profit. In order of slight preference:
Justin Bour, Eric Thames, Mike Napoli, Joe Mauer, CJ Cron, and Mitch Moreland are professional hitters with successes in their past (though Thames' were mostly in Korea), who will help in a deep league if they're not paid too much. And have little chance of a big season, which should motivate you to stay cheap. Cron would be a Tier Four guy, if he wasn't blocked by Luis Valbuena at first base and Albert Pujols at DH. Napoli had his huge season last year. Thames is intriguing because of the giant numbers he put up in Korea.
TIER SIX (The crummy and the unproven)
Matt Adams, John Jaso, Kennys Vargas, Marwin Gonzalez, Yonder Alonso, Adam Lind, Ryan Zimmerman, Sean Rodriguez, Steve Pearce, Logan Morrison, Mark Reynolds, James Loney, Justin Smoak. These guys are crummy. They occasionally have a good year, as Mark Reynolds did last year, but generally they struggle for playing time, they pop an occasional homer, and then struggle for playing time anew. Even when they're decent, as Marwin Gonzalez has been the last two seasons, they are always in danger of being replaced, have to scrap for playing time, and may not get it. Sean Rodriguez is out for the season after labrum surgery.
AJ Reed, Greg Bird, Jefry Marte, Dae-ho Lee, Dan Vogelbach. These guys are unproven. Each has a story.
Reed was supposed to break out last year and win a regular job, but was instead superseded by Alex Bregman and struggled in the chance he got. The Astros now have Yulieski Gurriel and Marwin Gonzalez at first, as well as Tyler White. I'm still a believer, but at least some of that thinking is magical.
Bird missed all of last year after shoulder surgery, and struggled in the AFL, which is understandable given his rust. The Yankees have now signed Chris Carter, who would seem to slot in ahead of Bird at first this year, probably, and may mean Bird will start the year in Triple-A working to regain his game. He will be a major league regular, eventually, with some chance that he'll be a contributor this year.
Marte did a good job last season hitting for power in limited at bats, but starts this year behind Yunel Escobar at third base. Even if Escobar were to go down, Luis Valbuena might move across to third from first, and block Marte again. He could conceivable see few at bats, or spend time in the minors, but still, I sense deep sleeper potential here on a bad team that has no reason not to try to develop their future.
Lee is old, and is looking for a job in his second major league season. The Korean import seemed to show excellent platoon power and contact abilities, on the short side, but the Mariners kept finding ways to bench him. He's here so that we don't forget him, in case he does sign with a team that really has a need for a good bat against lefties.
Vogelbach is the guy who pushed Lee to the curb in Seattle. He has the terrific ability to draw walks and the corresponding ability to strike out. Alas, he doesn't have a big power stroke, though some believe that will develop. A good spring could drive his price up, a bad one could knock him from the board.
Names for reserve lists, or guys you might like to move ahead of some listed above are Mark Canha, Tyler Austin, Chris Parmelee. Or not.
You can read about Catchers here.