Rotoman:
Would you trade Shelby Miller and Sonny Gray for Clayton Kershaw?
"Arms Race"
Dear AR:
There is no answer to this question. No thoughtful answer, anyway. You've left out an important component: Who replaces Gray when Kershaw replaces Miller?
Without that piece of information it's impossible to judge the wisdom of this deal. The answer is different if the missing sub is Mark Buehrle or Noah Syndergaard or Bartolo Colon or Jose Fernandez. See what I mean.
Or, since you asked what I would do, I would trade Miller and Gray for Kershaw because I've got Jordan Zimmermann on reserve right now. But I don't know what you've got.
But let's say you don't have JZ on reserve. Let's say you would acquire Kershaw and replace Gray with a replacement value starter. That's a $1 player, expected to earn $1. If that's the case than you would want Kershaw to be better than the Miller and Gray combined.
So far this year that's not the case. So far this year Gray is on pace to earn $40 and Miller is on pace to earn $44, while Kershaw is on pace to earn $16.
But you're not buying pace in your trade, you're buying future performance. Preseason expectations for the three were starkly different. Tout Wars Mixed Auction paid $36 for Kershaw, and $17 combined for Gray and Miller.
So, you have three questions to answer: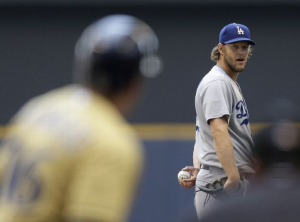 Can Kershaw return to form? Of course he can. He's throwing about as well as he has in the past, but he's allowed homers on fly balls at twice the rate as last year, and well above his career mark. Still, he's allowed six homers in 60 or so innings. Last year he allowed nine in 190. That costs runs. He still excels in every category except BABIP. There is some speculation he's tipping his pitches. There is other talk that he's throwing too many first pitch strikes, and hitters are swinging earlier in the count to avoid the slider. Hard to say for sure, but both of those things are both small potatoes and fixable. He'll be fine.
How good is Sonny Gray? Good, but not quite this good. He's a ground ball pitcher, so it isn't surprising he hasn't allowed many homers. But he's allowed homers on only three percent of fly balls. That number is lower than Kershaw's rate last year, and should rise to closer to 10 percent. With homers, again, come runs allowed, and the ERA and Ratio will go up.  Gray looks to me like a $25-30 pitcher, which is plenty good.
And what the heck is up with Miller? I've often wondered why people give Miller such a bum rap, and have been pleased that so far he's been showing that I'm right and everyone else is wrong. But it isn't really true, I'm afraid to say. Nick Lampe at Beyond the Boxscore does a good job of killing the straw man of Shelby Miller's Cy Young Award candidacy this year, one I wasn't arguing for, but what matters to you is whether Miller can sustain his $40 season, or whether he's going to regress to the $2 expectations. Like Kershaw and Gray, Miller hasn't allowed many fly balls. He's also allowing few line drives and is getting lots more soft contact than ever before. We don't know if that's because he's taking a new approach or getting better results with his old approach. He changed teams in the offseason and is working with new coaches, which can sometimes make a difference. He's throwing more cutters and fewer curve balls, which can make a difference, too. Still, he's not an elite strikeout guy and his control is fine, not great. Even if he gets lots of ground balls, as he has been, he's going to give up more runs. But that might make him a $15 to $20 pitcher the rest of the way.
Hmm. $25 for Gray plus $15 for Miller equals $40 for Kershaw. If you have a strong replacement for Miller, make the trade. If not, you're likely treading water unless you land a waiver wire find.
Sincerely,