WHEN WILL CUBS RUSSEL BE QUALIFIED 4 2 BASE?
No Signature
Dear Shouter:
There are so many things wrong with your question, they must be addressed.
A salutation isn't required, but it is nice. I'm fine with just Rotoman! or Hey Rotoman! or Hey! Or even something without an exclamation point.
Secondly, we are too deep into the 21st century for anyone to not know about the caps lock. Don't use it to communicate. It is that easy. WHY? Because it feels like shouting.
It isn't that hard to type "for." Or FOR if you must.
If you're going to type 2, you might as well type 2B. That gets it done. 2 BASE sounds like a small boy band.
The premise of your question is either impossibly specific or hits the sweet spot of my opinion.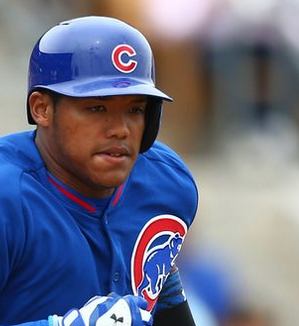 If you want to know how many games it takes for Addison Russell (LL at the end, or I prefer ll) in your fantasy league to qualify at second base, I have no idea because you didn't say what league you're in.
And since looking up rules is easier, there is always a link on your stat service, than typing with thumbs, you should look there.
If you're asking how Addison Russell is performing as a second baseman, since he has always played shortstop until this year, I'm interested, too.
Russell had only played five minor league games at second base before the Cubs called him up to the major leagues. And he's played five major league games at second base. He made one error in each five-game set, which is too many, but errors are not a fair way to grade a fielder, at least not entirely.
Joe Maddon says Russell is doing a fine job as a fielder at second base, which could be the truth, or Maddon could be blowing smoke. We do know that Russell is a fine shortstop, so any problems he has at the less-demanding second base position are likely due to the learning curve, which he should quickly move along.
The big issue for Russell right now is the bat. He drove in two with a double yesterday, but he's struck out 12 times in 22 AB. Even for a Cubs player that's a lot. But Maddon seems fine with letting him work it out, and the Cubs have been winning, so maybe he'll get a chance to develop his big league talent in the big leagues.
Sincerely,