This was my view across the draft table.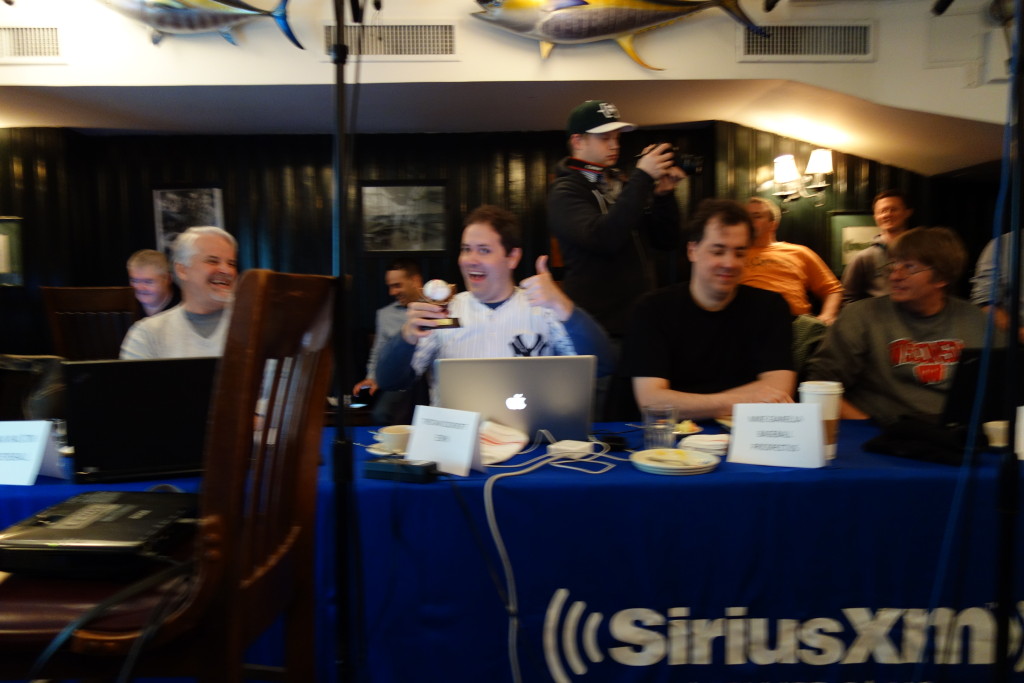 It's nice to see Tristan Cockcroft (with trophy) enjoying himself.
I had one plan going into this year's auction. If I was to land either Aroldis Chapman or Craig Kimbrel, I would eschew an ace, buy one aspiring ace and then fill in with all the attractive young NL starters available near the end.
On the hitting side, I ticked all the OBP guys up a buck and the anti-OBP guys down a buck, rather than fully price in the OBP difference. The reason was my observation last year that buying OBP won me the category, but cost me a bit in countables. My goal was to be cognizant of OBP, but to buy homers and RBI foremost and scramble later.
The auction opened with four straight pitcher nominations, and then—with just a few exceptions—a heavy stream of the game's best players. The pace was brisk and I bought the players who came in well under my bid prices. This landed me Andrew McCutchen and Ryan Braun in the early part of the game, as well as Craig Kimbrel.
Shortly thereafter, Troy Tulowitzki and Buster Posey joined Team Rotoman, and when the bidding stalled at $26 later on Anthony Rendon, I had to bid, and once again I was playing Stars and Scrubs style, as I did last year to disastrous second-half results.
The thing about last year's first half was it showed the power of Stars and Scrubs. My guys were in second place late in June, even though I'd lost Joey Votto for a month. The second half, when six of my seven 20+ guys did DL time, was the flip side. Once I started sliding the only thing that stopped me was the end of the season.
The problem is that prices in this league at the top end are usually a touch soft. Not a lot soft, but a buck or two on each of the Top 50 hitters adds up to $75 or $100 that later gets redistributed to the attractive players later on. If you don't spend early, you spend late.
The problem is that if you spend your money early on the chalk, and add all those big players, the teams with a little more scratch pick off the attractive endgame buys. On the pitching side, the guys I wanted for four were going for five, the guys I wanted for three went for four, and so on. Which is how one ends up with perhaps the least appealing pitching staff of all time.
And I'm not bummed out about that. But it surely didn't go the way I hoped. Here's a chart to see the problem:
Pitchers who cost $20 or more whose draft price differed by $2 or more from my expected price:
Pitcher Bid Cost
Bumgarner $27 $25
Cueto $24 $21
Greinke $23 $25
Chapman $23 $25
Zimmerman $23 $21
Hamels $21 $19
Wainwright $20 $18
There were 11 pitchers priced $20 or above. Five were more or less dead on. Five were off by two bucks, and one was off by $3. Nobody got a great deal here, but as a group the 11 cost $8 less than expected.
In the $15-$19 group:
Teheran $18 $16
Arrieta $17 $19
Lester $17 $19
Cole $17 $20
Shields $16 $18
Papelbon $15 $13
Melancon $15 $18
There were 12 pitchers in this group. Five were more or less dead on. Five were off by $2, Two were off by $3.  This group cost $8 more than expected. This is where I hoped to pick off Arrieta or Cole.
After two groups, the bid prices equal the sale prices.
From $10-$14, the two dollar (or more) differences:
Rosenthal $14 $16
Cashner $14 $11
Fiers $13 $10
Benoit $13 $17
Rondon $12 $15
G Gonzalez $11 $16
Cain $12 $9
Lynn $11 $16
Latos $11 $15
Ross $11 $14
Casilla $11 $7
There are 19 in this group. Eight were more or less dead on. Only one was within $2. Only five were within $3. As a group, bidding exceeded my bid prices by $12.
Alas, this was the group from which I hoped to walk away with Matt Cain and either Mike Fiers or Lance Lynn and, I hoped Shelby Miller. Lynn blew up, but I guess I blew it on Fiers. He had the biggest discount other than Cain in the group and I can only think my bankroll was so depleted at that point that I simply couldn't buy him. But from this side of the ledger I absolutely had to. Too late.
I should point out that there is operator error here. In the next group, of $5-$9 pitchers, I had Homer Bailey at $7 even though he went for $11 in LABR. His $12 on Sunday was aggressive, but not crazy.
In that same group, I wanted Jenry Mejia ($9 $8), Kyle Lohse ($8 $7–I got beat to $7 and couldn't real afford it, much less $8), Kyle Hendricks ($7 $6), Wily Peralta ($7 $9), Jimmy Nelson ($6 $6) and Carlos Martinez ($5 $8).
I know this recitation is dry as toast, but the point here is sweet as salty butter. This group doesn't spend on the big pitchers, but only by a little, and uses their savings  to pay for the cheaper guys with upside. Not outrageously, but just enough for a small bankrolled guy (like me) to lose out on every one.
This was my decision, based on my evaluation that it would be better to have Martin Prado rather than one of those mid-level pitchers. That's not a sure thing, but it is a fairly sure thing that I will have more opportunities to find pitching help during the season than hitting help.
So, I stuck to my values, wherever they might take me, and I'll try to fix the team composition in season. That is always part of the process. The game is rarely won in the auction. What I have now is a nice group of hitters, one and a half comeback pitchers, a fair amount of saves and closer strikeouts, and a budding closer in waiting behind two injured relievers.
There is work to be done.
Here's my team with Bid Price and Cost:
Buster Posey $27 $27
Yasmani Grandal $12 $13 (paid extra because he's a 1B, too)
Sean Rodriguez $1 $1
C. Johnson $12 $7
Martin Prado $15 $15
Anthony Rendon $29 $27
Troy Tulowitzki $31 $29
Alberto Callaspo $4 $3
Andrew McCutchen $43 $39
Ryan Braun $34 $30
Gerardo Parra $5 $3
Melvin Upton $8 $4
Will Venable  $4 $3
Nate McLouth $3 $1
Matt Cain $12 $8
Jose Fernandez $10 $9
Tom Kohler $1 $2
Mike Minor $4 $2
Tsuyoshi Wada $3 $1
Evan Marshall $1 $2
Bobby Parnell $3 $5 (thought he was worth more to pair with Mejia)
Jenry Mejia $9 $8
Craig Kimbrel $22 $21
That's a net positive of $33, if anyone's counting. It may not be pretty, but there are pieces here to work with.