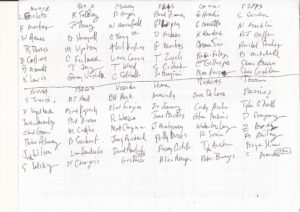 The American Dream League held its auction on Opening Day. 12 teams took (or kept) 24 players each (14 hitters, 10 pitchers) by bidding, and then, after a 10 minute break, had seven rounds of drafting. I came upon the sheet on which I wrote the reserve claims on that fateful day. My own reserve draft was very weak, which got me thinking about how much value was in our auction, and who got it.
The number in parentheses is their 5×5 earnings so far this season.
ROUND 1
Lucas Giolito: Future ace, right? Has a 4.47 ERA in Triple-A this season, with 59 walks in 129 innings.
Rowdy Telez: Young power hitter making the jump to Triple-A, didn't click. Hitting .222 with only six homers in Triple-A.
Brandon Guyer ($2): Veteran role player never really found a role. 112 AB with two homers and two stolen bases with Cleveland.
Bradley Zimmer ($11): Guyer's loss was Zimmer's gain. Our first solid contributor. Only hitting .246 in 240 AB, but with eight homers and 14 stolen bases. He has struck out 77 times, but walked 25.
Guillermo Heredia ($8): Fourth outfielder has seen more playing time because of the Vogelbach failure and Gamel injuries. Hitting .287 in 286 at bats with six homers and one steal.
Eduardo Escobar ($9): Solid utilityman benefits from Jorge Polanco's struggles. Hitting .250 in 280 at bats with 10 homers and four steals.
Sam Travis ($1): Only Hanley Ramirez ahead of him. Hit .278 in 43 at bats with no homers and one steal in a brief time in Boston, and is back in the minors in Triple-A, where he is having a mild season.
AJ Reed: Everybody's hot choice for 2016 seemed like a good reserve pick, but even with Houston injuries he's seen just six AB this year, but does have 25 Triple-A homers.
Byung Ho Park: Big swing for a big power hitter, who has spent a meek year in Triple-A, striking out 115 times in 355 at bats.
Yoan Moncada: Last year's big failure won a big arm in trade for Boston. Now up with Chicago he's hitting .186 and has struck out 36 times in 81 at bats. He's still young and was solid in his time in Triple-A.
Jose De Leon: Future ace has been hurt all season, but did earn a W in his one appearance in relief for Tampa, despite allowing three earned runs in 2.2 innings.
Jose Berrios ($9): Future ace started the year in Triple-A, but has now made 17 starts for the Twins. The results have been a little up and a little down, with a 4.27 ERA and 1.20 WHIP, which with 10 wins for the surprising Twins is enough to have earned $9. My projection for him before the season was 4.25 and 1.31 with fewer wins.
$40 in earnings for this group. Four contributors.
How much in earnings in Round 2? F Martes ($3), Jacob May (-$2), Whit Merrifield ($22, on the first place team), Rey Lopez ($1), Franklin Berretto ($1), Nick Franklin ($0), Dan Vogelbach, Michael Kopech, Clint Frazier ($3), Joe Jimenez (-$3), Cody Asche (-$2), Tyler O'Neill.
$23 in earnings for this group. One contributor.