Dear Rotoman:
Do you think it would be wise to cut Tyler Clippard and pick up Miguel Castro of Toronto?
It is a 10-team mixed league roto league. I look forward to your reply,
"Bedazzled"
Dear B:
Tyler Clippard is the closer on the Oakland Athletics, but has not yet had a save opportunity in this young season. It's expected that Clippard will return to his usual role as a setup guy once Sean Doolittle comes off the DL, which is expected to be in late May.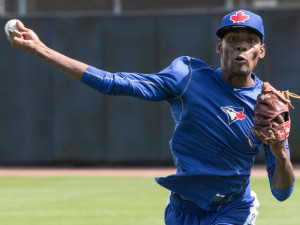 Miguel Castro is a hard-throwing youngster who has surprisingly ended up as the Blue Jays closer just a week into the season. He's a lively performer who already ranks fourth on the list of 20 and younger pitchers with the most saves since MLB went to Divisional play in 1968.
And that's the rub. We're in mostly uncharted territory here. Terry Forster had 26 saves in 1972 as a 20 year old, Victor Cruz had nine in 1978, and Don Gullett had six in 1970, all before the era of fantasy baseball. Is a 20 year old with just 15 starts in Single-A last year able to hold onto the closing job all season long?
And what are the chances that Doolittle doesn't make it back in five weeks, or he cedes the closer job even if he does make it back?
There are no hard and fast answers to any of these questions. What I think we know is that Castro probably has a slightly higher save ceiling than Clippard, but Clippard might be a little more reliable. That is, Castro is the greater unknown here, and thus comes with greater risk, but also has a better chance to get a lot of saves this year.
For me, this seems to be a bit of a sideways move for you. Probably worth doing if Castro is cheap, certainly worth doing if you don't have to throw Clippard back, but in all likelihood, not a reason to bet the farm.
Edge to Castro.
Sincerely,