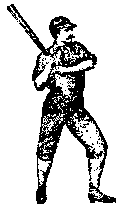 As reliable as spring and the cry, "I'm in the best shape of my career," comes the 2015 edition of Patton $ Software.
The software contains my 2015 baseball projections, my suggested bid prices (and Mike Fenger's) for 5×5 and Alex Patton's 4×4 bid prices, prospect lists and expert league draft results, as well as ways for you to enter your own bids, make up-to-the-minute draft lists for your fantasy drafts, edit and automatically adjust the projections and show what players earn with different statlines. In short, everything you might need to prepare to win your fantasy league this year.
There is a new procedure for buying this year. Go to pattonandco.com and register, if you're not already registered. Click the menu item that says Subscribe and follow the instructions (essentially, click the blue button, enter your payment information, and authorize payment for $36).
The Subscribe menu item will change to Subscriber, and you'll find the download links to the program, data, Excel and text files there right away. Plus you get to enjoy the redesigned and improved pattonandco.com website, with special subscriber features.
If you have any questions, please email me at askrotoman (at) gmail.com.