Dear Rotoman:
15 team head to head, 6 keeper league. Here's my roster.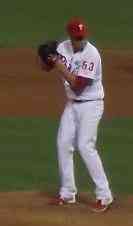 catcher yadier molina
1b justin morneau
2b dee gordon
3b pablo sandoval
ss xander bogaerts
of starling marte, wil myers, arismendy alcantara
sp cliff lee, cory kluber, jose fernandez, matt cain and 6 other pieces of trash
rp steve cishek, ken giles, and 3 other pieces of trash
pitcher heavy league for points and holds count
keeping (marte, kluber, cishek, ken giles, dee gordon, jose fernandez)
am I making a mistake? Any response welcomed
"Ken Giles Phile"
Dear KGP:
When do you have to turn in your keepers? Ken Giles doesn't have the closing job yet.
I know it looks smart for the Phillies to deal Jonathan Papelbon, opening up their closing job for Giles, who had an average fastball of 97.2 mph last year and consistently topped 100 mph. Giles improved his control after arriving in the majors last year, so maybe he's ready. And there was chatter that the Phillies were talking to the Brewers about Papelbon this week, which makes sense since the Milwaukee team has Jonathan Broxton as their putative closer at this point.
Still, right now Papelbon is only crazily expensive ($12.5M, with a $13M vesting option for 2016) for this year. The Phillies would no doubt like to get out from under that contract, but they're certainly not crippled by it. And if the Brewers (who are on Papelbon's no trade list) don't offer much for Papelbon now, it would be an easy call for the Phils to hold onto him and see who needs a top closer as the season progresses. Saving money is good, getting a good prospect is better.
So, it isn't a slam dunk Giles is going to have the job all year. That makes him a weak freeze at this point. On the other hand, you don't have a slam dunk alternative, so maybe he'll end up your best choice. But at this point I would consider keeping a hitter, a choice that depends on the pool of kept players. Molina, Sandoval, Bogaerts and Myers are all less risky than Giles right now, but don't have the closer's upside if he wins that job.
What I can't guess is how badly other owners in your league might vary any of these guys. So while Giles isn't an obvious mistake, you should look closely and take as much time as you can. There may be a better choice on your roster.
Patiently,
Rotoman