Tim McLeod wrote me yesterday:
A funny thing happened today while I was testing some strategy play in a mock. I'm taking the first slot so as to get a better feel for Tout (Wars Mixed Draft) and drafted Kershaw first. The gentleman in the second slot just hit McCutchen by reflex without evening looking at the board. The comments were pretty fast and furious. Not only was I one of the few to take someone other than Trout first, he actually fell to the No. 3 pick. It was worth the price of admission for everyone other than the McCutchen owner, who wasn't overly thrilled at the turn of events. We're so conditioned to seeing Trout, McCutchen, one-two that it really did create some havoc. More testing to follow. Tim
This reminded me of Ron Shandler's study of first round picks a few years back, showing that most of the talent taken in the first round doesn't earn first-round value. He seemed to be suggesting that this meant you should go for the player you think most likely to earn first round talent, even if they'll probably go later in the draft.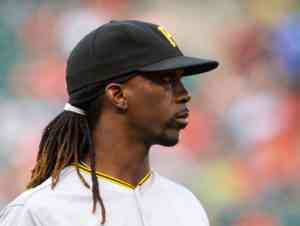 Depending on what draft position you're in, that might be completely wrong or just plain wrong or possibly a little right.  In other words, if you have the first pick, you want to take the player among the top 29 you think is going to have the best year. While if you have the 10th pick, you want to take the player from the pool of players between the 10th and 19th pick you think is going to be best this year.
In a draft, you're constantly assessing the talent available for your pick against the rest of the talent that won't be available the next time you pick. While it's possible to outthink yourself, for instance by not taking Mike Trout with the first pick, the fact is that Trout probably won't be the top-rated player this year. Last year Trout was selected No. 1, but was the ninth best player in 5×5 BA, behind Jose Altuve (77), Michael Brantley (299), Victor Martinez (184) and Jose Abreu (86), on the hitting side, and Clayton Kershaw (9), Felix Hernandez (41), Johnny Cueto (159) and Adam Wainwright (34).
So, while Trout was the ninth best pick last year, only one player in the Top 29 beat him, so a perfect draft board powered by hindsight would have had Kershaw atop it, followed by Trout.
But should it have? You have to remember that you are not only drafting the best available player, but you're also trying to set up the best available match in the second round. Here it gets tricky to evaluate, since hindsight gives us an answer that isn't all that meaningful at this point. But last year, if you took Kershaw with the first pick, you would have ended up with Freddie Freeman or Elvis Andrus or Jose Reyes, while if you took Trout first you would have ended up with Max Scherzer (or Freeman et al, or Jose Fernandez, Stephen Strasburgh, Adam Wainwright or Madison Bumgarner).
These two points are the crux of snake-drafting good teams, and which is why I find it silly to mock somebody who ended up taking McCutchen over Trout, even on purpose.
For the record, here's where the Top 30 players from 2014 finished the season (Top 29 finishers are in BOLD):
Mike Trout (9)
Miguel Cabrera (11)
Paul Goldschmidt (76)
Andrew McCutchen (10)
Carlos Gonzalez (358)
Ryan Braun (87)
Adam Jones (22)
Prince Fielder (580)
Clayton Kershaw (1)
Bryce Harper (238)
Joey Votto (424)
Edwin Encarnacion (58)
Jacoby Ellsbury (28)
Hanley Ramirez (102)
David Wright (140)
Chris Davis (295)
Jose Bautista (19)
Robinson Cano (18)
Jason Kipnis (220)
Shin-Soo Choo (268)
Yu Darvish (335)
Troy Tulowitzki (88)
Yasiel Puig (44)
Justin Upton (38)
Adrian Beltre (23)
Giancarlo Stanton (13)
Evan Longoria (98)
Dustin Pedroia (133)
Carlos Gomez (15)
Max Scherzer (126)
I'm sure Tim has more to say about this, too, and hope he chimes in.
By the way, the rankings are based on 5×5 BA prices, while Tout Wars uses 5×5 OBP. So these rankings aren't definitive, but rather suggestive, and sure represent (roughly) the dynamic of roto values.