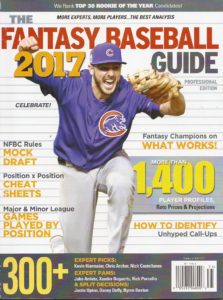 First off, if you want to read the Mock Draft Commentaries, go here.
This is the place where I'll post corrections and updates to the 2017 Guide. There is a link in the top nav bar, so you can always find it. Price and projection updates will be posted about March 15th.
Page 6: Very embarrassing. The photo credit is wrong. The picture of Yoan Moncada is by friend and new contributor Buck Davidson. I'm sooo sorry Buck, and will get a fixed PDF for you to use as a clip.
A reader named Jeffrey reports: I figure that if Tyler Anderson and Jon Gray are worth $2 apiece, then Tyler Chatwood should be worth a bid of $1. If I see anything else of note, I will send another email.
At first I thought Jeffrey meant I hadn't given Chatwood a price, but in fact Chatwood isn't in the Guide at all. Sorry about that. I've posted a long look at Chatwood at pattonandco.com, which you can read here.
Another missing pitcher is Ryan Merritt. You can read his profile here.
The great Steve Moyer has been a contributor to this magazine since 2001, edition No. 2, and some of the ways the Guide is set up and works grew out of my collaboration with him. One way I pay him back, almost every year, is to screw up one of his Picks and Pans. Sometimes I label a Pan a Pick or vice versa, or sometimes I don't put one in at all. I'm happy to say that this year I got it perfect, but Steve emailed this morning to say that he sent me a Lucas Giolito PAN that ran in 2016. This time, his fault.I should have caught the error, the PAN says directly it's about 2016, but on the other hand, Giolito did see a cup of big league joe last year and did not turn heads (except for those who expected him to be good). So, the comment, that this may not yet be his year, is still pertinent. The good news might be that his price might be knocked down a tick. He's an endgame lottery ticket.
A few hitters and pitchers in the A-Z section of the Guide are designated at C, F or R. I've been phasing out those designations because they mean very different things for all the different formats people play. But I did give some players this year the letters, after cutting the definitions out of the Why We Do page and the Legends of the Hitter and Pitcher A-Zs. Here's what they mean:
C = Claim. A player who likely doesn't have draft able value, but does have a quality that makes him worth claiming if you have an open spot.
F = Future. A future star.
R = Reserve. A player who isn't draft able because of being blocked for playing time, but has a potential path to playing time making him worthy of being a reserve.
Thanks to Tim and Donna Carlson for sending along the question about these.
---