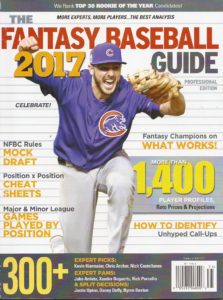 First off, if you want to read the Mock Draft Commentaries, go here.
This is the place where I'll post corrections and updates to the 2017 Guide. There is a link in the top nav bar, so you can always find it. Price and projection updates will be posted about March 15th.
A reader named Jeffrey reports: I figure that if Tyler Anderson and Jon Gray are worth $2 apiece, then Tyler Chatwood should be worth a bid of $1. If I see anything else of note, I will send another email.