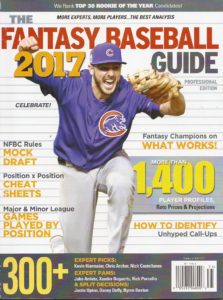 First off, if you want to read the Mock Draft Commentaries, go here.
This is the place where I'll post corrections and updates to the 2017 Guide. There is a link in the top nav bar, so you can always find it. Price and projection updates will be posted about March 15th.
A few hitters and pitchers in the A-Z section of the Guide are designated at C, F or R. I've been phasing out those designations because they mean very different things for all the different formats people play. But I did give some players this year the letters, after cutting the definitions out of the Why We Do page and the Legends of the Hitter and Pitcher A-Zs. Here's what they mean:
C = Claim. A player who likely doesn't have draft able value, but does have a quality that makes him worth claiming if you have an open spot.
F = Future. A future star.
R = Reserve. A player who isn't draft able because of being blocked for playing time, but has a potential path to playing time making him worthy of being a reserve.
Thanks to Tim and Donna Carlson for sending along the question about these.